7 for 7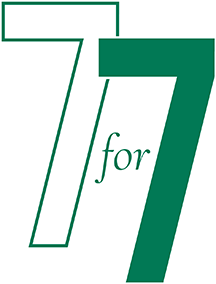 7 for 7 Prayer
"We must talk to God about people before we talk to people about God." — D.L. Moody
What is 7 for 7?
Prayer is how we pursue renewal for the places and people that God has put in our lives. Prayer is one way we experience God, and it helps us realize that people need an encounter with God for only the gospel can change our lives and our city. Prayer wakes us up to the many ways God is at work all around us so we can join in what he's doing with the people and places we interact with daily.
For this reason, you are invited to pray daily for the next 7 weeks, beginning February 27, for up to 7 people wherever God has called you. Tell us that you're praying with us.

Who do I pray for?
Who are 7 people (work, family, friends, neighbors) whom God has placed in your life to love and care for by praying for them? Think of people that you know well, who you see frequently or have a need that you are drawn to.
How Do I Begin?

Once we understand that we are called to live out the hope of Christ with these people in the places we live work and love, we're met with perhaps the most difficult question: How do we actually live this calling out? Prayer is our central action, and beyond that there is no simple checklist, but rather a journey we travel together.
Sign up so we can know you're praying, and we can text you a scripture prompt to pray each day.
Pick up a copy of the Callings Guidebook at Temple Israel on Sundays. Use page 17 to write down the names of your 7. For a digital version, click here.
Can't think of 7? No problem. Pray for the blank spaces, that God will show you who they are.
Choose a time: consider every time you pick up your toothbrush or 7 am/pm.
Share Your Stories

Here's the funny thing about prayer: when we pray, God does things. Did you unexpectedly reconnect with an old friend? Practice Eat with someone new? Ask a question that led to a rich conversation? Tell what Jesus has done in your life?
We want to hear each other's stories of God's faithfulness and to learn from each other.
Join the pastoral team and others in your calling at Hugh Food Hall on Wednesday, April 27 at 6:30 pm. At this debrief, we'll share stories of God at work in small and big ways and help each other grow through best practices for your calling.
If you can't make it to Hugh Food Hall, please share your stories of answered prayer through the form below.