Redeemer East Side Update
As our city continues to face the effects of the COVID-19 outbreak, Redeemer East Side is constantly looking for new ways to care for one another and serve our neighbors during this time. But one of the most important things we are called to do as a church is to worship the God who has promised to never leave nor forsake us — even at the cost of his life. So, as we approach the most important week of the Christian calendar, I wanted to let you know how we will be observing Holy Week this year as a church.
Christians have always been a pilgrim people: strangers in this world, journeying to that city whose foundation and architect is God himself (Hebrews 11:9-10). This moment in our journey may feel like a valley of shadows, but there is more. Philosopher Dallas Willard, in his book on Christian discipleship, A Divine Conspiracy, writes, "We have received an invitation. We are invited to make a pilgrimage—into the heart and life of God."
As we enter Holy Week tomorrow on Palm Sunday I want to invite us all to journey together "into the heart and life of God." For in Christ, we know that, while this journey will take us into the valley of the shadow of death, the story ends on the far side of the grave with a banquet of inexpressible joy.
In resurrection hope,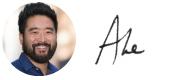 Rev. Abraham Cho
East Side Senior Pastor
---
---